LES MASTERS DU GRIFFITH COLLEGE, ACCESSIBLES UNIQUEMENT APRES LES BACHELORS DE L'EDJ (BAC+5)
Les Bachelors de l'EDJ, diplômes d'excellence, ont été validés dans les pays anglophones comme l'équivalent d'un Bachelor Honours, c'est-à-dire un Bac+4.
Après les Bachelors de l'EDJ, vous intégrez donc directement la 2ème année des Masters en journalisme du Griffith College et vous devenez bilingue !
Vous n'effectuez donc pas les semestres 1 et 2 de Master 1 (MA1). Vous passez directement en MA2 pour y effectuer les semestres 3 et 4 : 12 mois de cours + 6 mois de mémoire (que vous pouvez effectuer où vous le souhaitez).
Vous voulez devenir bilingue ? Commençons tout de suite : let's go!
Founded in 1974, Griffith College is Ireland's largest independent third level institution with over 7,000 students at our campuses in Dublin, Cork and Limerick. A Griffith College degree means something to industry professionals and helps you stand out when seeking employment.
Griffith College boasts small class sizes, strong track records of student and graduate success and a wide range of career focused undergraduate and postgraduate courses.
All our degrees are taught at the highest academic standards. Our graduates are multi-award winners both in Ireland and internationally for their quality work. Griffith alumni have high profile roles in a wide range of industry sectors including accountancy, business, computing, design, media and law.
You will not be lost in the crowd whilst studying at Griffith College. Tutors are dedicated to ensuring each and every student reaches his or her potential. Our programmes are student-centred, focused on building your individual strengths and developing your talents.
GRÂCE À CE MASTÈRE, DEVENEZ : ENVOYÉ SPÉCIAL, ENVOYÉ PERMANENT, REPORTER À L'ÉTRANGER, REPORTER DE GUERRE, GRAND REPORTER, JOURNALISTE DE PRESSE ÉCRITE OU DE WEB, REPORTER RADIO, JOURNALISTE REPORTER D'IMAGE (JRI), PHOTOGRAPHE DE PRESSE, RÉDACTEUR…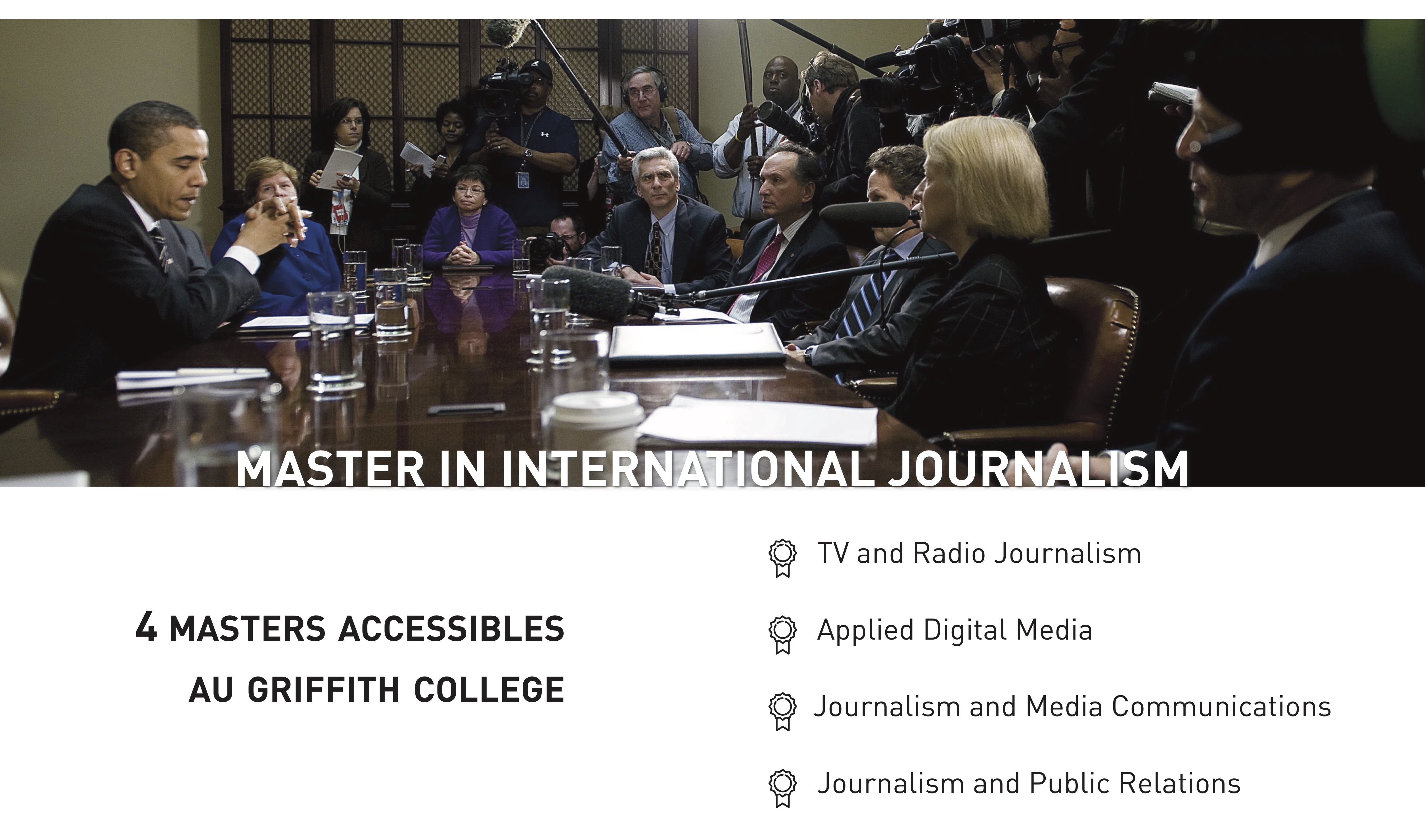 MA2 in TV and Radio Journalism
MA2 in Applied Digital Media
MA2 in Journalism and Media Communications
MA2 in Journalism and Public Relations