Who are we ?
EDJ has been training its students in all forms of journalism professions since 1990. Over 45 current practicing journalists and university professors are present to teach students about their profession. Today, EDJ is one of the most professional journalism schools out there: its courses correspond to the requirements of the profession and make it possible to enter the job market right out of school.
All courses taught at EDJ are multi-media
Students are trained in print media, web and social networks, radio, Mojo (Mobile Journalism) and photography, which increases their chances of being hired. Their work is corrected by their teachers who are journalists, to help prepare them for the profession. Of course, learning multiple languages throughout this course is qlso a huge asset if desiring to work abroad.
EDJ has been recognized by the State since 1995
This recognition was issued by the Rectorate and the Ministry of National Education following an audit of the school and was attested by a decree published in the Journal of Heaven. The recognition of the state is to testify that EDJ participates usefully in the public service of higher education. It makes it possible to welcome bursary qualifying students. This recognition is a guarantee of seriousness of EDJ for all students that enroll.
Degrees valid in Europe
To promote the mobility of its students, EDJ has opted for the European Credit Transfer System (ECTS). These act as valid points in European higher education. They make it possible to obtain equivalent degrees in all the countries of Europe. You receive 60 ECTS credits a year. A Bachelor degree is therefore equivalent to 180 ECTS and a Master at 300 ECTS.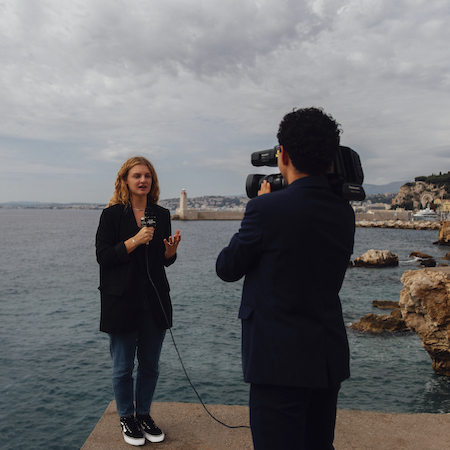 EDJ prioritises real experience in the field
Students are out reporting several times a week. Every day, their work is corrected by their teachers who are journalists. Their subjects are then published on EDJ student media: EDJ FM (the school radio), EDJ TV (TV) and EDJ News (news website).

EDJ takes care of finding work experience for all their students
EDJ prides itself on integrating its students into the media. On average, EDJ obtains 350 internships a year from local, national or international editorial teams. Through these internships, students create a professional network that allows them to be hired quickly after graduating.
EDJ is also internationally oriented
The school has held the ERASMUS + Charter since 2010 and is a partner of lepetitjournal.com, which allows students to do their internships in more than 60 cities worldwide. This also means students can benefit from Erasmus bursaries.